Mr Frederick Huynh

BSc (Hons) MBBS (Hons) FRACS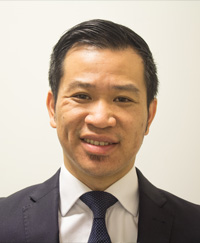 Mr Frederick Huynh
Tel: 03 9508 1559
Fax: 03 9509 1522
Mr Frederick Huynh is a general surgeon who specialises in surgery of the liver, biliary tree and pancreas. He also has experience in advanced minimally invasive (laparoscopic / keyhole) surgery, oesophagogastric surgery and also has a keen interest in regional / rural surgery.
Mr Huynh grew up in Brisbane, where he completed a Bachelor of Science with Advanced Studies (Hons) at Griffith University, graduating with the University Medal. He went on to study Medicine at The Australian National University in Canberra, performing within the top cohort of his class and graduating with First Class Honours. Mr Huynh made the move to Victoria in 2011 to commence his training in General Surgery with St Vincent's Hospital, Melbourne and was awarded his FRACS in 2016.
Frederick undertook a general rural fellowship with Bendigo Hospital 2016 and proceeded to complete a formalised Hepatopancreatobiliary (HPB) Fellowship with the Australian & New Zealand Hepatopancreatobiliary Association (ANZHPBA). The first year of his ANZHPBA Fellowship was undertaken at The Alfred Hospital, Melbourne, where he gained further experience in complex HPB, oesophagogastric, bariatric and trauma surgery. Mr Huynh then spent a year overseas with the HPB unit of Tan Tock Seng Hospital, Singapore and also undertook a period of further training at Severance Hospital, Yonsei University Health System, South Korea, where he gained exposure to robotic and advanced laparoscopic surgery prior to returning to Australia.